Rekord świata na dystansie pół mili należy do tego 1998 BMW E36 M3 japońskim silnikiem 2JZ-GTE o mocy powyżej 1500 KM. Samochód jest obecnie licytowany za 60 tys. dolarów, a do końca aukcji pozostały jeszcze trzy dni…
HG Motorsports w San Diego
Samochód został skrupulatnie zbudowany przez HG Motorsports w San Diego i ma modyfikacje warte około 50 tysięcy dolarów. Właściciel twierdzi, że to E36 zostało zbudowane dla kogoś, kto jest perfekcjonistą  i chce, aby każdy przycisk działał, a samochód był wolny od wycieków silnika i mógł jeździć w dowolnym miejscu bez problemu. To BMW posiada aktualny rekord świata na pół mili z  prędkością wylotową 186 mil na godzinę przy wietrze czołowym 15 mil na godzinę. Na najwyższym doładowaniu to BMW generuje ponad 1300 KM na kołach tylnej osi.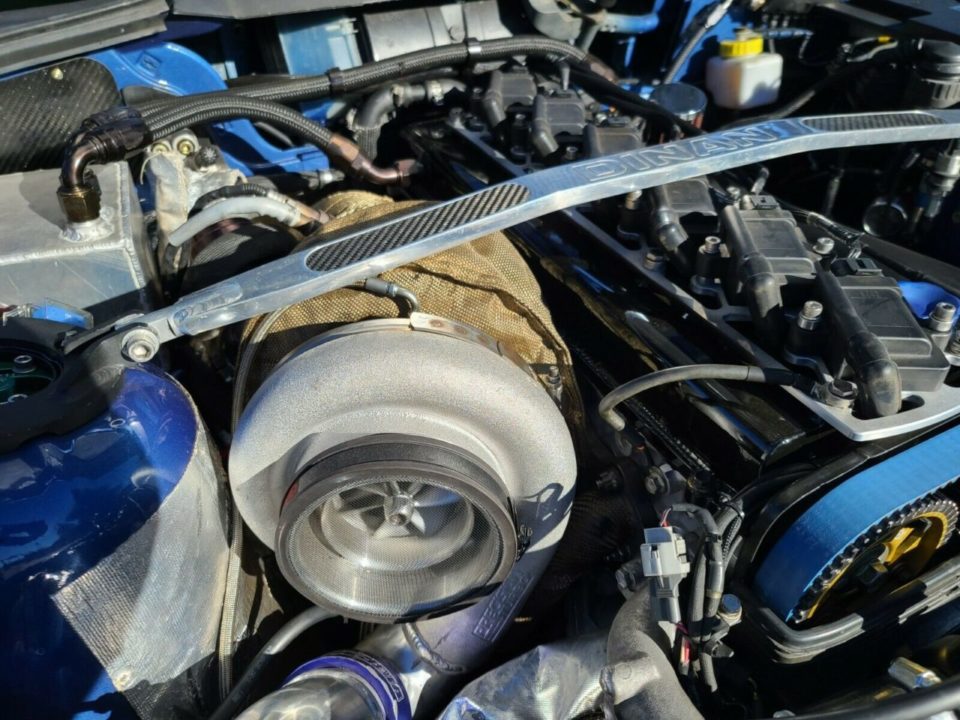 E36 Cordel Rufus The Third
Właściciel zaprasza do oglądania kanału Cordel Rufus The Third w YouTube, aby uzyskać więcej informacji. Jak twierdzi "To było moje dziecko przez ostatnie kilka lat, budowałem ją od podstaw. Kupiłem samochód jako w pełni odrestaurowane E36". Jak widać konstrukcja BMW E36 potrafi wytrzymać dużo więcej, niż zapowiada producent jeżeli jest odpowiednio wzmocniona.
Galeria
This slideshow requires JavaScript.
Lista modyfikacji E36:
Dinan strut bar
Mishimoto X Line radiator with custom baffled end tanks for triple pass
Twin 12 inch high output Spal fans with twin150amp relays all controlled by the Haltech on at 175.
155 degree thermostat.
All fluids changed, tranny, diff, engine, coolant(water wetter)
AC blows ice cold! Yes I had custom AC lines made and this beast does have running AC no heat.
WHEELS / TIRES new Toyo r888r and Mikey Thompson ET Street R.
17X9″ Matte Black APEX ARC-8 Wheels with extra set for other rear tires.
Sabelt Racing Wheel – Alcantara
Refreshed Steering Rack
New Battery
Head Unit Alpine (nothing special but it has hands free integrated into the car)
Satin Estoril Blue Paint Done by Chapparone Auto Body paint.
Side and Rear Windows – 50%, Windshield – Air Blue 80% Radar hardwire included. Valentine 1 in the car with integrated wiring.
La Jolla Audio Mirror Mount for Valentine V1
TC Kline roll bar
TC Kline Roll Bar for E36 – Bimmer Haus Paint roll bar to match body
Auto Meter Air/Fuel Gauge
Auto Meter Elite Boost Pressure Gauge
Auto Meter Elite Oil Pressure Gauge E36 3Gauge Panel
Haltech Can Gauge on pillar which can show you anything on the Haltech in real time.
6 point harnesses all up to date and new.
VAC – Harness Anti-Sub Mounting Brackets
rieger front lip
motion motorsport aluminum underpanel
graphix seat belts in estoril blue
recaro pole position seats
Full interior detail
Valvoline VR1 20-50 race oil
chassis reinforcement plates the whole chassis is stiffened!
Turner Motorsports E36 Front Subframe Reinforcement Kit
AKG Motorsport Rear Trailing Arm Pocket Reinforcement Plates
ground control camber/caster plates Ground Control Hybrid Street/Track Camber
turner motorsports rear camber arms
Turner Motorsports Rear Adjustable Camber Arms- E36, E46, Z4
turner motorsports 30mm front sway bar Turner Motorsports Front Sway Bar for E36 M3 – 30mm
bimmer world powerflex rear trailing arm bushings
Powerflex E36/E46/Z4 Rear Trailing Arm Bushing Kit (RTAB))
bimmer world powerflex front control arm bushings
Powerflex E30/E36 3 Series/Z3 Control ArmBushing Kit (FCAB)
Custom exhaust 4inch downpipe to a Y with a boost activated 4 inch dump. Otherwise exhaust runs all the way back through full 3inch stock looking exhaust. Car sounds fine driving around and I don't get pulled over. Until you hit more than 20psi of boost and the exhaust opens!!!
Upgraded Brembo Brake Calipers full Porsche 996 setup front and rear with 2500 Ferodo Track Pads and Motul Fluid stops fine from 190 plus in the half.
alignment – aggressive street
Major Alignment(Toe, Caster and Camber Adjustment)
All new carpet/interior and lighting
Engine: 2JZ-GTE 3.0 Fully Built whole build was done through consulting with Real Street Performance. Only stock parts are the block and crank.
Stock block bored .020 over, decked .005 and line honed and checked.
CP HD pistons 10:1 rings gapped at .028 and.032
Manley tri-beam rods
Stock Crank polished
ACL bearings
Billet main caps
ARP hardware and ARP 625 head studs
Titan ported oil pump
Head Games fully built head with shimless buckets and CNC port.
GSC S2 cams and full dual spring valve train.
BC Cam Gears
Gates timing belt
Billet timing belt tensioner
ATI damper
OEM engine seals
Mazier electric water pump
Mishimoto x line radiator with custom end tanks for triple pass
Twin 12″ Spal High output puller fans3600cfm.
Custom AC lines and setup. AC works!!
DOC Race divided single 60mm manifold
Precision 8685 Gen2 twin scroll dual ball bearing Turbo
Aluminum Intake Manifold
Titanium hardware on both manifolds
ID-2000cc injectors
Tial 60mm waste gate
Tial 50mm BOV
All new OEM sensors and Haltech sensor package including fuel pressure sensor and flex fuel
IGN1a coil conversion
Titan Billet valve covers
Plugs are gapped to .018 NGK bkr7eix 2667
Rear sump oil pan
OEM power steering pump and AC
Haltech 2500 Elite
Aeromotive brushless 5.0 pump with twin 8anfeeding both sides of the rail. PLENTY OF FUEL. The speed control is running off a hobbs switch in the trunk at about 23psi is spins up to 100 percent.
Grannas Racing T56 trans
McLeod 1200 twin disc clutch
Tilton Hydraulic Throw out with upgraded master cylinder and pedal stop.
Driveshaft shop chromoly 3inch driveshaft
E32 large case diff good for 1200hp with 3.15rear gear. Super long car is built for half mile but drives great.
240amp Alternator Mechman with larger pulley
OEM axles not crappy Autozone axles that snap. I have never had a problem with the drivetrain. I have extra parts including another axle that can go with the car plenty of other parts as well including spare alternator and others.
Sensors:
Haltech Elite 2500
OEM TPS
OEM Crank POS
OEM Cam Position
OEM Both Coolant Sensors
Haltech Oil Pressure
Haltech Oil Temp
OEM Knock Sensors
Ford Idle Air Control 2 wire (stock location)
OEM Starter Solenoid
OEM Alternator plastic oval
OEM AC
Haltech Rotary Knob
Haltech CAN Wide Band O2
Haltech Flex Fuel
Haltech 5bar
Haltech GM Intake Air Temp
Haltech Fuel Pressure
2 wire 4 port boost control
IGN1a coils
ID 2000cc injectors
Fan Relay switch
Hall effect wheel speed sensor on front passenger side for boost by speed.
źródło: ebay.com
Tagi:
1500 km
,
2jz
,
E36
,
M3